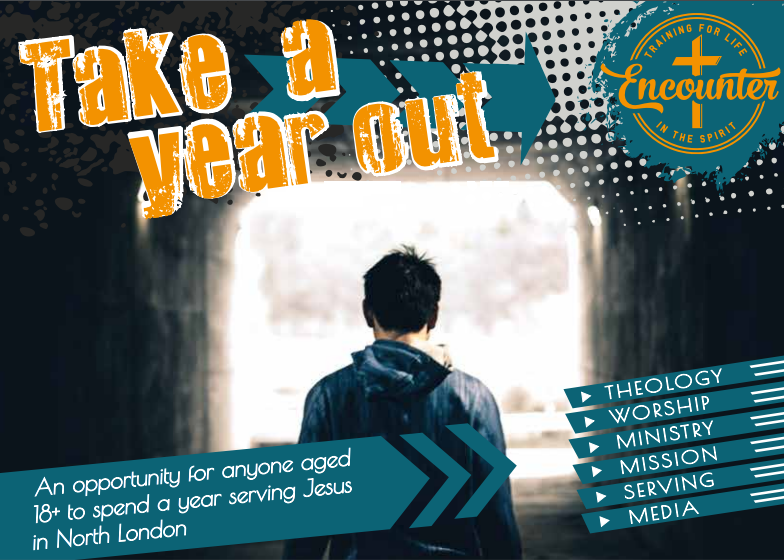 What is Encounter?
Encounter is an opportunity for anyone aged 18+ to spend a year serving Jesus in North London.

How does it work?
Encounter is run by Chase Family Church - you will spend a year either being placed with us or placed with one of our partner churches. You will become fully involved in the ministry of your placement church for the year in a variety of different areas. 
Every Monday all the Encounter students will gather at Chase Family Church Centre for prayer and worship in the morning, and the weekly training session in the afternoon. 

The Encounter year covers SIX KEY AREAS…
THEOLOGY

WORSHIP

MINISTRY

SERVING

MISSION

MEDIA
 
Where can I find out more about Encounter?
Check out our information booklet (attached below).
Follow the link to our website: https://www.chasefamilychurch.com/Groups/321732/Chase_Family_Church/Church/Encounter_Gap_Year/Encounter_Gap_Year.aspx
Find us on Facebook: encounteryearout
Find us on Instagram: encountercfc 
 
How do I apply?
To apply for the 2020-2021 team download and fill out the application form available below.
Still have questions about Encounter?
Contact Suz Tidey: suz@chasefamilychurch.com / 020 8366 5488 

Location
Enfield
London, City of
United Kingdom
Contact E-mail Address
suz@chasefamilychurch.com