We provide a way out for those caught in the system, whose pathways to change have been blocked and restricted through their social circumstances, family upbringing, physical problems, educational shortfalls, or even their own poor choices.

Training for Life provides key skills that unlock doors to a better future - but it also is so much more. We will continue the heritage of Mattersey Bible College and the mandate passed down through the generations.

Mattersey will be a place of training, for men and women to continue their journey of change. A place of equipping, raising up a generation empowered by the Holy Spirit to impact our towns and cities.
Mattersey Hall Training Centre will be founded on the values of Service and Sacrifice.

We will value Discipleship above Leadership.

We will be a place of Honour, Respect, Dignity, Courage, Humility, Passion and Potential.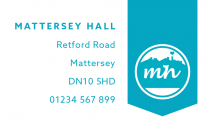 Mattersey Hall College
Retford Road
Mattersey
DN10 5HD
Doncaster
United Kingdom