Wokingham Baptist Church is a thriving community of all ages, based in the expanding market town of Wokingham in Berkshire. The congregation of 250 includes a number of families with pre-school and school age children. The church has strong engagement with the town.
As a church community in Wokingham worshipping God, following Jesus, empowered by the Spirit, we are committed to growing as:
A welcoming community We want to express how God welcomes all people unconditionally.
A compassionate community We want to demonstrate God's love for everyone, especially those in need.
A diverse community God has made us all different: different ages, different backgrounds, different cultures, different viewpoints - and we think that's a strength.
A learning community We've got a lot to learn about God and what it means to follow Jesus, but we're enjoying the ride.
An active community We want to be active disciples of Jesus, gathering to encourage and equip each other, then each going out to serve God wherever we are sent.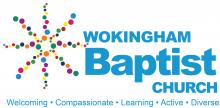 Wokingham Baptist Church
Milton Road
Wokingham
RG40 1DE
Wokingham
United Kingdom