Two-thirds of the world's population cannot get access to safe surgery when they need it. As a result, 17 million people die every year from conditions requiring surgery. This is higher than the number who die from TB, malaria and HIV/Aids combined. Mercy Ships is working to tackle this crisis. We operate the largest charity-run hospital ship in the world, delivering free, safe medical care to some of the world's least-developed countries.
This "floating hospital" is staffed almost entirely by volunteers, who give their expertise for free to help treat dental and eye problems, cleft lips and palates, tumours, club feet, childbirth injuries, burns and various other conditions. Since 1978, Mercy Ships has visited 55 countries, providing services worth more than £1 billion that have directly helped more than 2.7million people. We have also trained 42,000 local professionals in their areas of expertise to leave a legacy that lasts. www.mercyships.org.uk
Jobs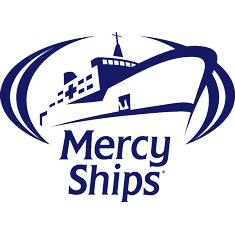 Our Kitchen Staff assist the Galley Team Leader with the preparation and clean-up of all shipboard meals. The baker is responsible for the preparation of all breads, rolls, pastries, and desserts. Seeking experienced bakers and/or pastry chefs.