Who we are
IJM is the world's largest anti-slavery organisation working to end modern day slavery, human trafficking, and other forms of violence against those living in poverty.  
Our mission is to partner with local officials to rescue victims, bring the criminals to justice, restore survivors to safety and strength, and help local law enforcement build a safe future that lasts.
IJM UK supports this global mission by: raising awareness; raising funds to support our operational work around the world; mobilising a movement of abolitionists across all parts of society, including the Christian Church; and providing thought leadership, leveraging our unique global experience to influence leaders across Government, businesses and institutions.

We are a Christian organisation inspired by God's call to love all people and to seek justice for the oppressed. We protect the poor from violence, without regard to religion or any other factor, and seek to work alongside all people of goodwill.
We have a big vision, big aspirations and a big heart.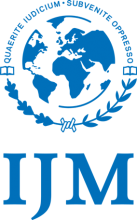 PO Box 12251
Witham
CM8 9BX
Essex
United Kingdom