Central Evangelical Church or Central, as it is affectionately known, has existed on its current site since the early 1930s. A Christian Brethren church by tradition we have been entirely independent for our existence. Although from the Brethren tradition we have become like a lot of independent Evangelical churches in recent years with the appointment of our first Pastor in 2015. We have had a long association with Youth Pastors, the first part-time worker being appointed in the mid-1990s. Since then we have always had an employed person to work with the youth both inside and outside our church. Our current Youth Pastor is our fifth employee and has been in the role since August 2011.
We have a wide variety of ages in attendance on a Sunday with our average number of regular attenders on a Sunday between 130 – 150.
The church is led by 6 male elders of which the Pastor is one. We operate as a leadership team. We are also served by a healthy number of Deacons and a small group of Trustees. Our largest demographic is the over 55 age group closely followed by those in their 30s – 40s. We have been blessed in recent times with very young children and a number of new births which allows us to have healthy creche and Sunday School numbers. There are various activities on during the week with more information to be found on our website.
At Central you will find a friendly, welcoming and encouraging church when it comes to youth work and youth workers. People are very supportive of this work and we are keen that the successful candidate and their family (if applicable) feels very much part of our church family.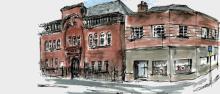 John Finnie Street
Kilmarnock
KA1 1BL
East Ayrshire
United Kingdom