Our particular vision is to glorify God by initiating church-planting movements among Muslim peoples of the Arab world.
What keeps us focused as a mission?
Unreached Peoples Of The Arab World
The Arab world lies at the heart of the Muslim world. The vast majority have yet to hear the gospel. AWM-Pioneers focuses on people groups who have little opportunity to hear and understand the gospel. With a few exceptions, many major towns and cities still have no Christian presence. Where there is a presence, the Church is often under pressure.
Working in Partnerships
Both in the sending process and while ministering in the Arab world, AWM-Pioneers recognises the importance of working in close cooperation with the local church. We want to be a valued partner in facilitating the overseas ministries of UK sending churches. And where there are national churches with a heart for the unreached, we want to partner with them in the task if possible.
Church-Planting Movements
To us, church planting is not simply grass roots evangelism. It means long term commitment to the process of empowering and equipping local believers to become disciple makers. We seek to participate in church-planting movements through a huge range of diverse and creative activities.
Working Through teams…
AWM-Pioneers workers serve together in teams to seek the Lord's vision and purpose for their ministry. Ideally, a team consists of at least three people who are committed to each other and to their common ministry task.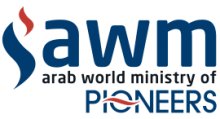 PO Box 51
Loughborough
LE11 3WQ
Leicestershire
United Kingdom